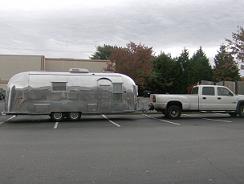 The above photo is Showroom Transport towing a rv airstream travel trailer.
The above photo is Showroom Transport towing a 5th wheel rv trailer.
Are you in a rush for a quote? We can call you NOW to give you a FREE quote!
Just PUSH the Ring Me Button Below and you will receive a call from us.
Just pick up your phone when it rings and wait until a representative answers the phone.
We ship to/from the below states.
List of states we cover:
Look for your state by abbreviation:

Contact Information
Sales office: 800-462-0038
Fax: 888-299-0050
If you are not in the US or Canada, call:
540-784-4773 or 703-407-8287
Open 7:00am to midnight et.
7 days a week.
WE have trucks towing and hauling rv's all over the continental USA.
Office Locations
Lorton, VA
Gettysburg, PA
Fredericksburg, VA
Lewiston, ME
Brunswich, ME
Auburn, WA
Irvine, CA
Orlando, FL
We can move your rv anywhere in the mainland, USA.
Call us now or fill out a free rv towing quote at: